Global market——the world's most credible international e-commerce platform, with professional global promotion, setting up high-quality manufacturers group brand GMC, will help international buyers trust the qualified manufacturers in China. Over the years, the Group has focused in bringing "Made in China" as quality mark.
Group brand GMC - Global Manufacturer Certificate (GMC) " Global manufacturer "logo is applicable to high-quality manufacturer in all industries
with export strength in china. The sign standards collection is based on analysis of the global professional buyers advise,it reflects the purchasing habits of the professional buyers as well as screening evaluation criteria of quality Chinese manufacturers,including the most buyers 's focus whether it is real manufacturer,ability of producing quality products, the size of the factory, professional foreign trade team and experience, product development capabilities, social and environmental responsibility, reputation / goodwill and past the OEM / ODM experience etc 8 standards reflecting the overall strength.
Global Markets (Asia) Holdings Limited entrusted TÜV German Rhine to strictly inspects in documentary audit and on-side audit under GMC eight standards towards Chinese manufacturers, to confirm if they really have the considerable size of the export strength. Global Market Group (Asia) Limited Awarded the "Global manufacturer certification"to the qualitied manfacturers, and carry out spot checks from time to time review
Cheshire hot melt adhesive also have the certification for Transport of Good,which will show you the product is safty for transport.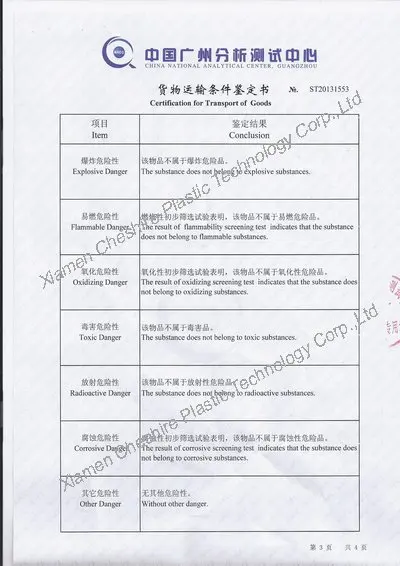 Thank you for your attention and trust!